I am an ecologist-biogeographer interested in biodiversity of all kinds of organisms inhabiting the Earth. My research focuses on both aquatic and terrestrial systems, ranging from topics like rarity and commonness through taxon, functional and phylogenetic biodiversity patterns to ecosystem structure and functions.
I am currently working as Senior Research Scientist at the Finnish Environment Institute's Biodiversity Centre.
Feel free to send me email if you would like to talk about issues related to biodiversity or wish to collaborate me on these fascinating and important topics. Check out our research group's web page for more information about my research by clicking here.

Keywords: abundance, assembly rules, biodiversity loss, biogeography, biostatistics, biotic homogenization, community ecology, conservation, distribution, environmental change, lakes, macroecology, metacommunity, niche, phylogeny, spatial analysis, species diversity, streams, traits.
My research goal is to help understanding, conserving and saving diverse biotas and healthy ecosystems in a changing world.
Dr. Jani Heino
Finnish Environment Institute
Paavo Havaksen Tie 3
FI-90570 Oulu
​FINLAND

E-mail: jani.heino@environment.fi OR jani.heino.eco@gmail.com
Powered by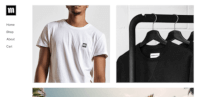 Create your own unique website with customizable templates.